Product

Sound Insulation And Heat Insulation Narrow Frame Sliding Door

Brand

ZHTDOORS

Place of Origin

China

Material

Aluminium Frame and Tempered Glass

Glass

1.Single or double as requirement

2.Types:tempered glass,coating glass,patterned glass,reflective glass,etc.

Color

White/Black/Silver/Wood Grain/Customize

Thickness of profile

0.8mm-2.0mm

Opening Way

Sliding Left/Right

Accessories

Various of hinges,locks,handle,bolts,etc.

OEM/ODM

Acceptable

MOQ

1 Set

Package

Plastic Foam+paper box+Strong Carton

Delivery Time

7-15 days after sales confirmation

Port

Guangzhou,Shenzhen etc.

Payment

T/T first 30%,upon load 70%

Application

Balcony,Bathroom,office ,dining room etc.

Features

Durability ,practicability
Product Describe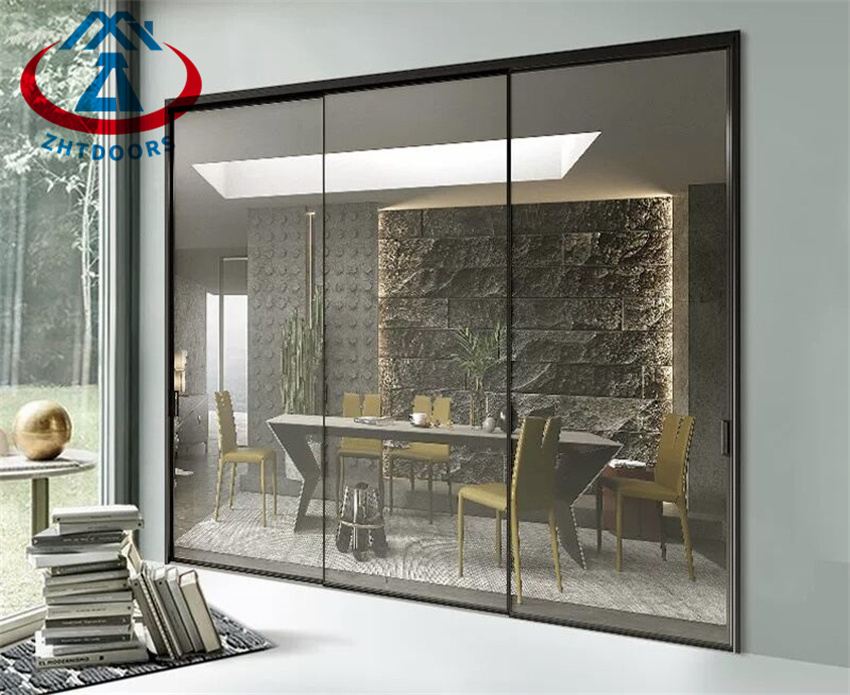 The aluminum sliding door is popular among many families,which is not only for its convenience to switch, but also for its effectively decoration of the family, and it can create a kind of close atmosphere to make the distance of the people closer. Its design concept and installation is relatively simple, nowadays, it is the priority of decoration for a lot of family.
Product Advantages
◪1.Separating space :the main function of the door is to separate the space. The degree of limitation can be determined by the size, material, style and color of the sliding door.The aluminum sliding door suitable for separating high-rise large space is dark color and its material is hard. On the contrary, the small size, light material and good aeration of the aluminum sliding door are suitable for smaller space division.
◪2.Obliterating line of sight: owing to its material transparency differences, its function of occlusion line of sight degree varies. Different functional areas have different requirements for visibility. When dividing large space into small spaces, daylighting should be considered. Large hollow glass-spaced aluminum sliding doors can be installed inside the shutters to block the light.
◪3. Sound insulation: good quality of hollow glass has a strong sound insulation effect. Some aluminum sliding door sealing performance is better, which can effectively reduce noise.
◪4.Enhancing privacy:in modern life, bathroom, bedroom and so on are no longer as before, which were surrounded by brick walls. Among the personalized designs, transparent glass bathroom is a common occurrence. To realize privacy, the entrance of these areas can be shielded by aluminum sliding doors.
◪5.Increase spatial elasticity:opening or moving the aluminum sliding door can be customized according to the use requirement, the structure and the style of decoration at any time, then the space also becomes bigger or smaller as it opens or closes,it is more flexible and changeable.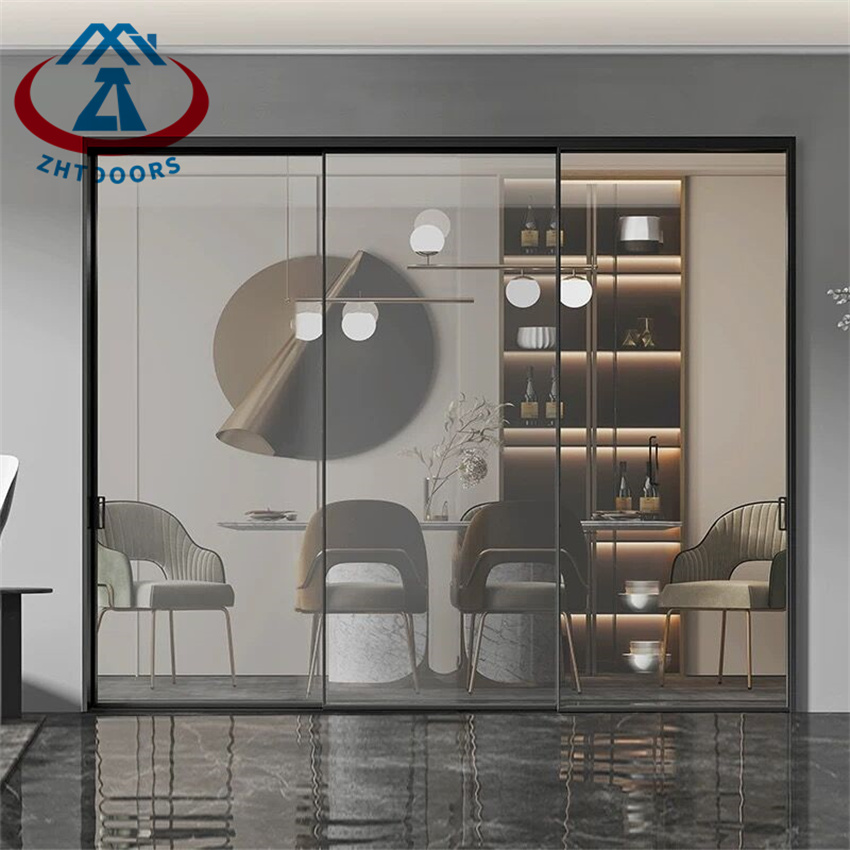 Application
1.Separating dining room and kitchen:in ordinary house, the most noteworthy is the kitchen, because it needs to prevent kitchen fumes from emitting out.However,with a transparent aluminum sliding door,it can be the most effective separation.
2.Separating study room and living room:the living room and study room are the most often used place in the whole house,no one wants to be disturbed when reading and working .Therefore, the aluminum sliding door is the first choice to effectively isolate all of outside sound.
3.Separating bedrooms and bathrooms:separate the bedroom from the bathroom by aluminum sliding doors, and it can make full use of the space.
4.Separating balcony and interior house:if your house design is with a large balcony,you can choose aluminum alloy sliding door, which does not only to maintain the overall space permeability, but also can meet the needs of different space separation. At the same time its has the function of sound insulation, heat preservation and transparent light.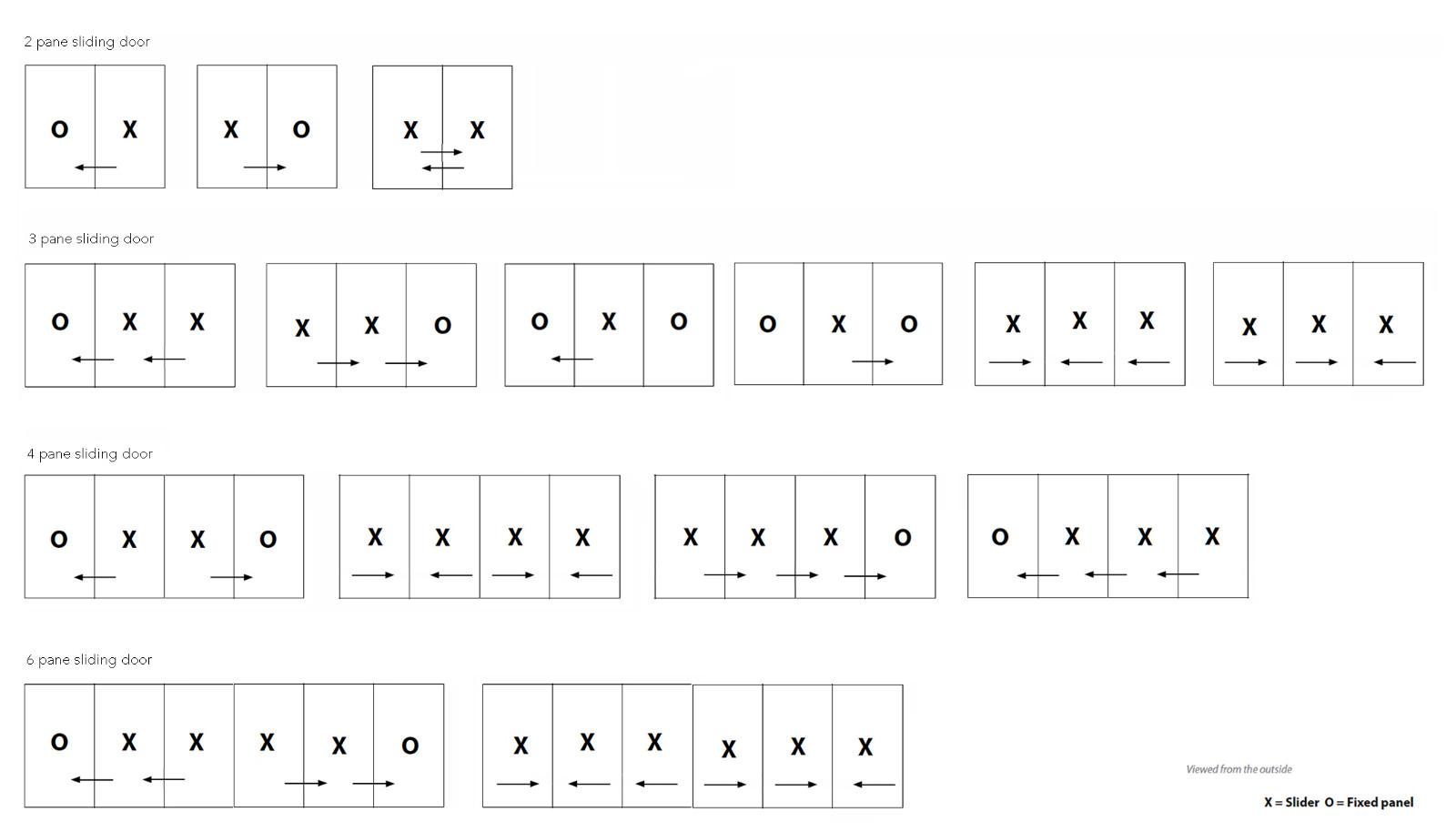 We Guangzhou Zhongtai Doors&Windows Co.,Ltd. are a Sole Proprietorship firm engaged in Manufacturer of Construction Products. Since our establishment in 1999 at guangdong/guangzhou/, we have been able to meet customer's varied needs by providing products that are widely appreciated for their sturdy design, rust resistant nature and high strength. Under the strict direction of our mentor, , we have achieved an alleged name in the industry. Guangzhou Zhongtai Doors&Windows Co.,Ltd. has successfully finished at decade of remarkable track records in providing all its esteemed customers with state of the art qualitative services at very fair prices with almost precision in manufacturing of the products in all respects, right for the quality control to end user satisfaction. It is committed to cater all the needs of the customers in terms of various configurations. We have best of expertise and experience in this field. We are very particular in quality of all our operations and procedures, ranging from quotation to final billing and customer information updation. Our motto is to provide